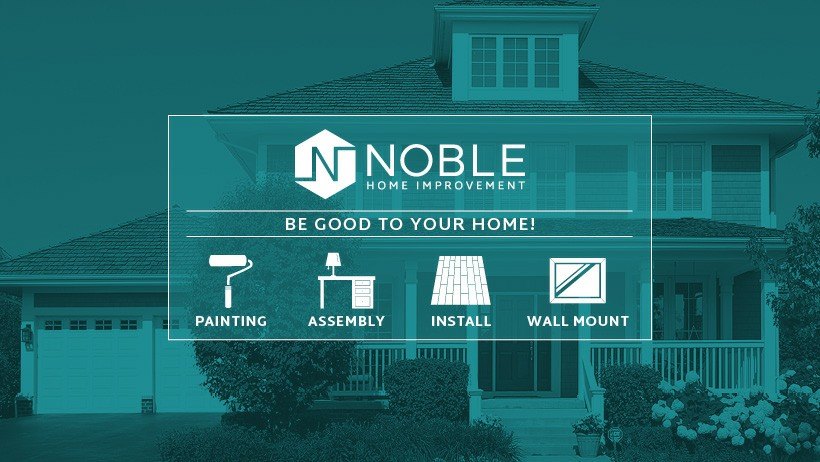 Life is pretty complicated as it is. At Noble Home Improvement, we want to be transparent about the simple things- such as how to contact us, our hours, our services, etc. We have compiled the most common questions posed by our customers below to help you. Feel free to contact us if you have other questions.
About Us
What exactly do you do? Are you a handyman? Contractor?
At Noble Home Improvement, we specialize in Residential Paint Services. This includes interior and exterior paint projects.
So you only offer paint services?
While we specialize in residential paint services, we do also offer general handyman services and seasonal services. Our handyman services include: flooring installation, furniture assembly, TV wall mount, art hanging and more. Our seasonal services include: Mobile Seasonal Tire Changeover and Exterior Light Hanging.
What areas do you service?
We primarily service Durham Region and surrounding areas- including Markham, Scarborough, Richmond Hill.
Do I have to pay to tax?
We are a registered business and believe in operating our business ethically. We collect tax on behalf of the government. An invoice will be issued with our tax information for our client's records.
Contacting Us
I am interested in getting more information. How do I contact you?
We look forward to answering your inquiries. You can reach us either by phone/text at 647-325-HOME or email at: [email protected]
While we do utilize Facebook and Instagram to post our work and share information, we do not utilize these platforms to manage client inquiries.
What are your hours of operation?
Our regular hours of operation are Monday-Thursday 9AM-5PM and Friday 9AM-2PM. Calls and e-mails outside of these hours will be responded to within our regular business hours.
Business Procedures
I want to get an estimate. If I share the project specifications via email, can you send me a quote?
Unlike many standard products or services in the market (such as a haircut or buying a pair of jeans), home improvement services such as painting are unique and require an in-person visit to understand the scope and the client's individual requirements. We offer free in-home quotes. Quotes will be scheduled in the evenings outside of our operational hours. For the reasons stated previously, we do not provide estimates without surveying the project.
I have an urgent project. Can you help me?
We want to accommodate our clients and understand that last minute projects may arise, especially due to unanticipated events (such as an unplanned sale/purchase of home). We recommend that our clients are proactive and contact us at least 3-4 weeks in advance to schedule work, especially during peak season (April-September).
I want to paint my home but am unsure of what colour to choose. Can you help me?
We believe in focusing on our area of expertise- painting and finishing services- and re-directing clients that require colour consultations to leverage the expertise of a professional who offers colour consultations.
Have other questions, please contact us.
Phone: 647-325-HOME
Email: [email protected]
Frequently Asked Questions